August 13, 2019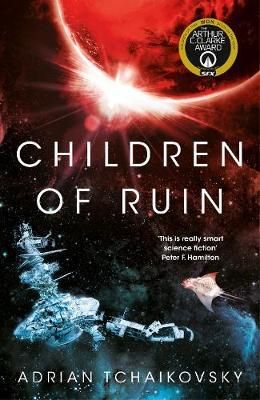 (★★★★☆)
Children of Ruin (Children of Time, #2) by Adrian Tchaikovsky
This is a self-contained kind of sequel. It helps if you read the first book, but you don't have to remember any specific details to understand Children of Ruin.
Overall Tchaikovsky continues to provide the most classical sci-fi book feeling I've in recent years. The themes are big and he doesn't shy away ideas that slow things down while they're described — not explained.
These slow parts mostly pay off, because they are not there to make you study a topic 1, but rather it's as if Tchaikovsky has more experience than you on the subject, but he's as baffled as you of how alien the concept is. Which makes perfect sense in a future universe where aliens are present.
While I did stayed up a few nights with Children of Ruin, I enjoyed Children of Time more. However, they're both excellent and if you liked the first one, this is a worthy read.
---
Unlike with Neal Stephenson long tangents.↩︎
---
Previous post
Verizon to Sell Tumblr to Automattic
Sarah Krouse on wsj.com: Mr. Mullenweg said his company intends to maintain the existing policy that bans adult content. He said he has long been a
Next post
Wordpress Founder on Tumblr Acquisition
Matt Mullenweg, writing on his photomatt.tumblr.com blog: When the possibility to join forces became concrete, it felt like a once-in-a-generation