June 2, 2023
Boox Leaf 2 Short Term Review
The Boox Leaf 2 is an $199 Android tablet with an ink screen in a small factor and side buttons for up/down or next/previous page turns. I've had it for over two months now and use it almost every day for reading ebooks. I first became interested in it after reading Six Colors review a while back.
A Better Eink Reader?
Up front, the Leaf 2 has not changed my reading habits the way I hoped/wished. One of the advantages I thought about it being Android is that I could use my read-it-later apps: Reader and Omnivore. In reality, the speed of the tablet and of the e-ink screen means that if the apps are not optimized for it — mostly no scrolling rather but paginating the articles — it's a painful experience.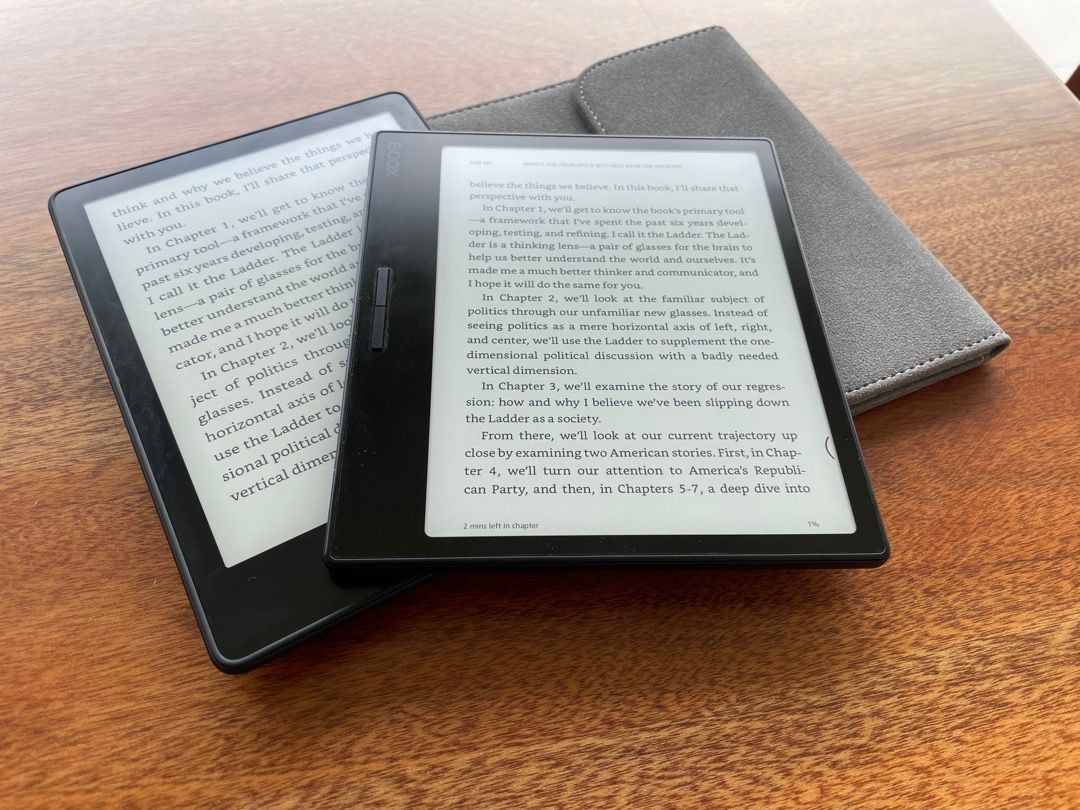 Boox Leaf 2 and Kindle Paperwhite
One of the things I do like about it is the software being an Android variant is ability to have Android apps and the upgrade_ability_ this implies. Unlike the Amazon Kindle, where the software is almost as static with the physical device itself. You very rarely get big upgrades or changes with it.
Another thing I like is the button layout. It is a fairly standard ebook reader with buttons layout, similar to the Kindle Oasis and some Kobo Libre designs and a bunch of generic Chinese ink tablets.
But it does work. I do see myself appreciating the side buttons a lot as I lay in bed at night. I had the Kindle Voyage for a long time, which had pressure buttons on the sides, which were useful but not as great as real clickable buttons.
Android Platform
The flexibility of the device software is bittersweet. There's a side of my the sighs heavily when I have to configure the touch areas for book turning — or for turning it off. However, the long term dynamism of the device makes me happy.
For example, I've already decided and changed my mind, on which reading application to use three times. Originally the Kindle app was discarded because for some reason — even when using the physical buttons — the page turning animation would show. It made reading unbearable.
The full featured default reader was next. Works really well but, it allows too much personalization, and, doesn't have a clear path for synching highlights with Readwise — a deal breaker.
I then moved on to Google Play Books, and was surprised how much well it worked: easy ePub uploads, nice book layouts and great synch across applications. But it has the most annoying automatic dictionary bubble I've ever seen. What's worse, the dismissing gesture didn't seem to take on the eInk screen.
I then crossed to the pond to the PocketBook ecosystem. Here the configuration options of the Android app are endless. So settled on it for a few weeks — worried on how I'd import into Readwise, but sure I'd find a way since there's a Obsidian plugin.
Where am I now? well two funny things happened: first, I figured out how to dismiss the dictionary pop-up on the Google Play Books; and secondly, the Kindle page turning slowness fixed itself with some update.
The Design
As I mentioned, the design is really good. I like the button placement and don't mind the charging port placement. However, it's a bit plasticky. Depending on how you grab it, it can creak a little1.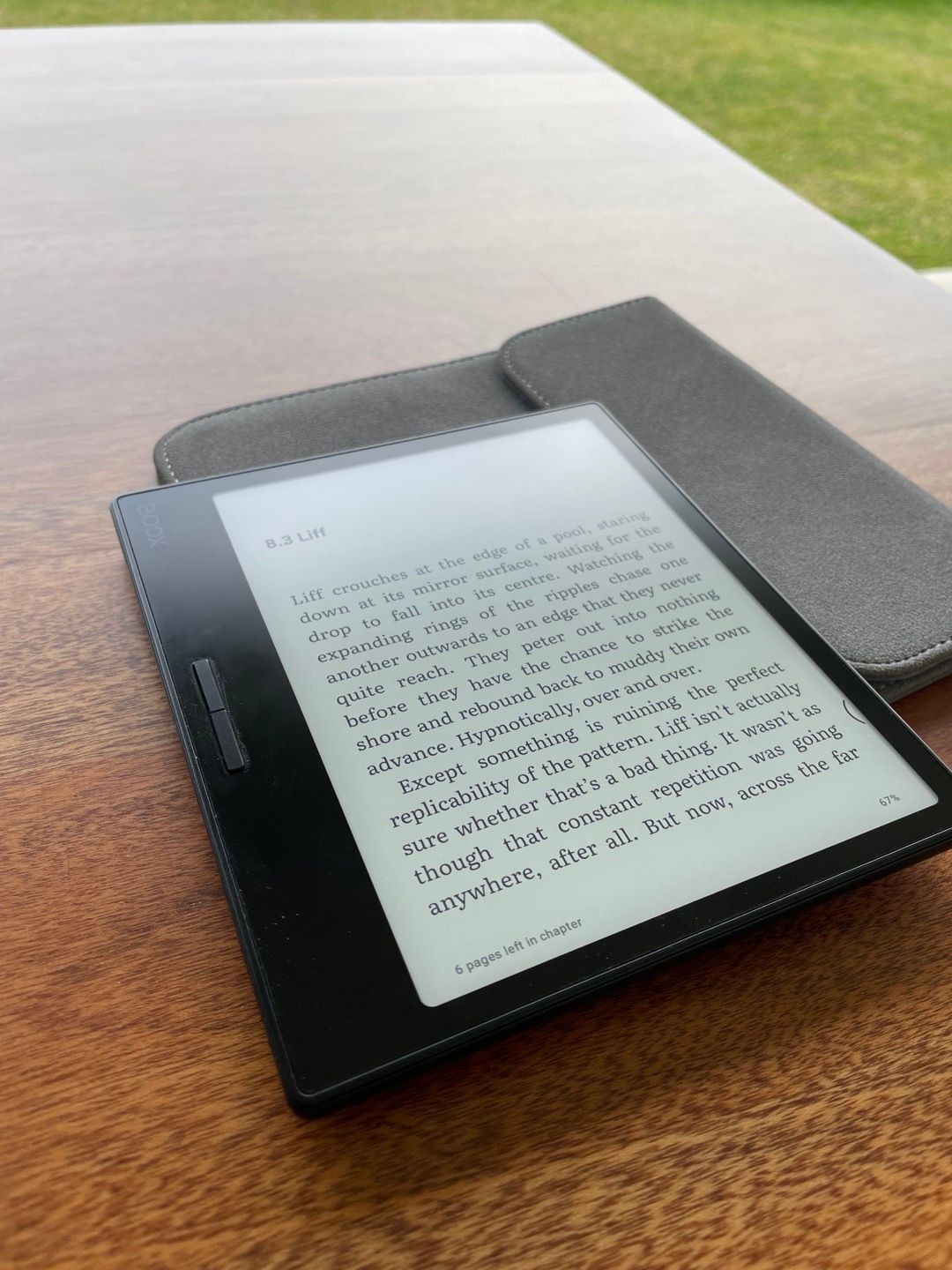 Boox Leaf 2
One thing that sucks is the included case. I don't like how it holds the device, and it's flimsy, meaning the magnets on the cover do not close properly. Ended up buying a sleeve to use when traveling.
A Quick Note On the Amazon Kindle Ecosystem
One of the things that nudged me on the Android route is that Kindle's support for EPUB is very hacky. I "acquire" a lot of DRM-free books and every time I try to get one into the Kindle, it messes with the layout.
I feel that this will continue to get worse. The Kindle ecosystem is a dead end if you're into DRM-free books. Which makes more open platforms like this one more attracting to me.
Closing Thoughts
Would I buy it again? I don't know. I would probably take another look first at the Kobo Libra 2 or the refurbished Oasis. Should you buy it? No. Trust Jason Snell, I agree with him and wouldn't recommend this reader to almost anyone.
This isn't an ebook reader product, it's an ebook reader project. It require too much fine-tuning to really get started.
---
I have the black version which has a flush screen. The white version doesn't have the glass screen on top. I don't know how if that makes a difference.↩︎
---
Previous post
Don't Hold the Elevator Doors
There's a story of people getting off the elevator whenever Steve Jobs would get in on them at the Apple Campus. The premise being that he would
Next post
WWDC 2023 Wishlist
Tomorrow will likely be as important for Apple, as the iPhone introduction. And while I'm all-in for adjective parade, when the confetti settles,