March 3, 2016
Markdown Textshot Bookmarklet
I love using Linky for Twitter textshots1, however, it is only available for iOS and sometimes I read an interesting article on my Mac. On such cases I either take a screenshot of the browser or actually open the article on the iPhone to just to use Linky:
https://twitter.com/rmateu/status/705440887921381376
Of course, the OCD in me struggles with the lack of consistency around both. Hence this quick and hackie 2 bookmarklet that lets me copy the text in Markdown format so I can grab the screenshot of the preview for the textshot.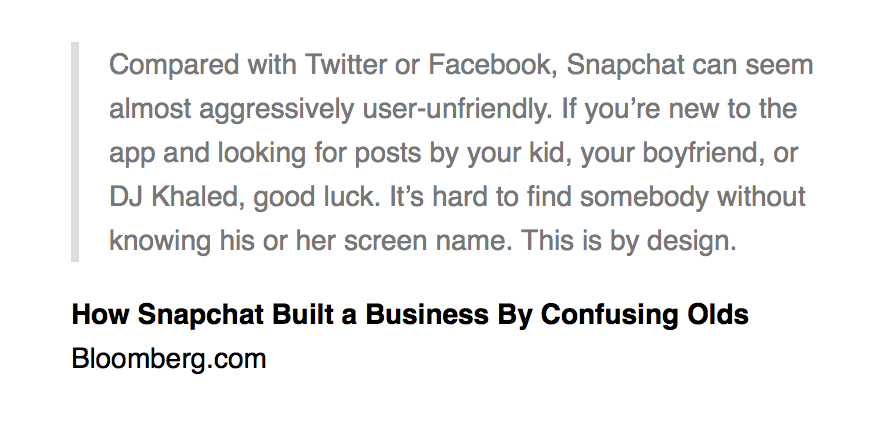 ScreenShot of resulting Mou preview
I tried to replicate as much as possible the Linky/Instapaper/Medium textshot, so the domain removes the www and gets capitalized. I haven't tested in enough sites to see if it breaks — buy you can't get too obsessive, right? RIGHT?.
How to use
Drag and drop the Bookmarklet to your browser bar: ✁ M Textshot
Select the article text you want to quote.
Copy text in prompt.
Paste in your Markdown Editor of choice3.
Take screenshot of preview.
---
Previous post
On Criticizing Without Creation
I criticize by creation, not by finding fault. ― Cicero This one of my favorite quotes. I apply it to my everyday work life. Since I don't have a
Next post
Links for Friday, March 4
Seems some inside Microsoft did see the rise of Slack. Got to respect wanting to invest that in Skype though. Enjoyed Manton Reece's post on The