March 1, 2016
Quick Review: Roost Laptop Stand
With the arrival of our bundle of joy, our home office experienced a metamorphosis to baby room. As such, a Monoprice 27in IPS-Glass Panel Pro LED Monitor with 2560x1440 resolution on a LX Desk Mount LCD Monitor Arm didn't fit the theme — not that I'm bitter.
My old Griffin iCurve took too much space both in the temp work desk (dinning table), and in the basement (under bed) when not in use. I'd heard about the original Roost Stand Kickstarter and set to look for something similar.
Luckily, the same team behind the original Roost successfully funded the 2.0 version last year and they were taking open orders for delivery in Feb/March. At an intro price of $59, it seemed like a good price given the features.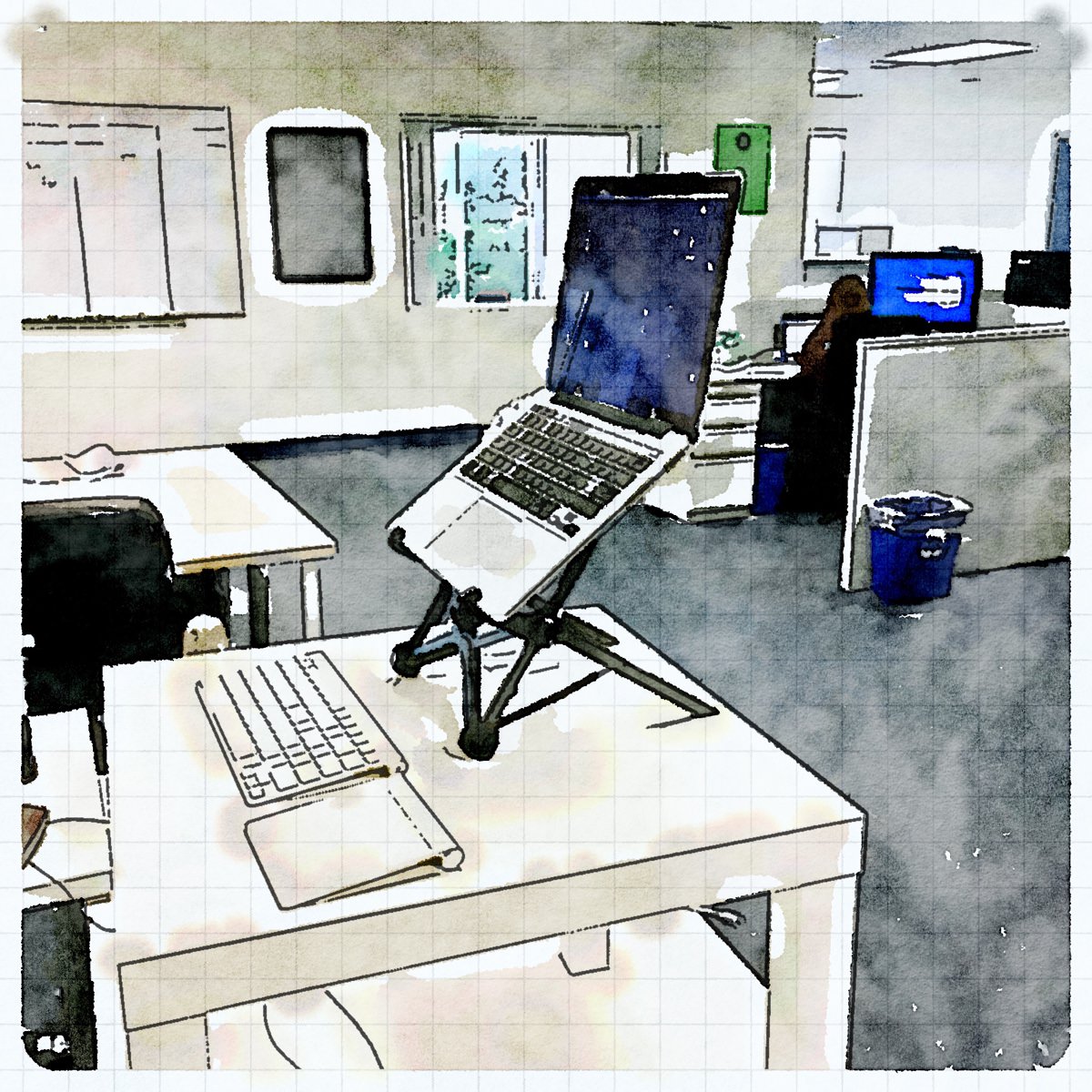 Artsy Roost Stand
I've used my Roost stand for about 2 weeks now, and I'm very happy with it.
Design
The design itself is extremely functional, but it clearly fails at the discoverability principle: When you look at it, it's not easy to discover what it does — or even how to open it.
I had to look at gif on site a few times –and even calmly replay the instructions video– to feel comfortable with setting the 13in MacBook Pro Retina on it.
But once you get the hang of it, I appreciated the usability compromise in favor of its compact size and weight. It fits perfectly on my briefcase, since it exactly as wide as the MacBook.
Use
Three things set apart the Roost from other stands I've tried in the past:
Height: I've only really used the highest of the 3 levels, but it very high. Which is exactly what ergonomically.

Footprint: the depth of the stand is surprisingly small given how tall the laptop sits. But for the precarious standing desks I keep setting up, it helps since it allows for more keyboard and mouse space.

Grip: given how light the stand is, it feels amazingly solid. You need a pretty strong bump to throw your laptop flying.
In the end, I recommend you consider the Roost if you're looking for a stand in general. At $74.95, it falls a bit on the expensive side. But if you need a travel stand, I haven't seen a better option.
---
Previous post
The Setup: Mac at Work Apps
This was a pretty intense work week, so it seems like a good time to make a snapshot of the most used apps. I could do one of these every few weeks…
Next post
On Criticizing Without Creation
I criticize by creation, not by finding fault. ― Cicero This one of my favorite quotes. I apply it to my everyday work life. Since I don't have a